Sarah Diavola - Virginity Thief
Sarah Diavola - Virginity Thief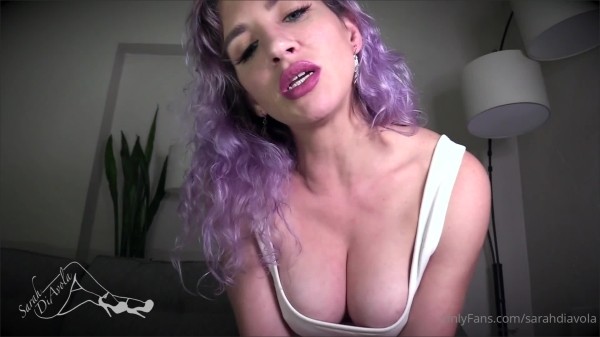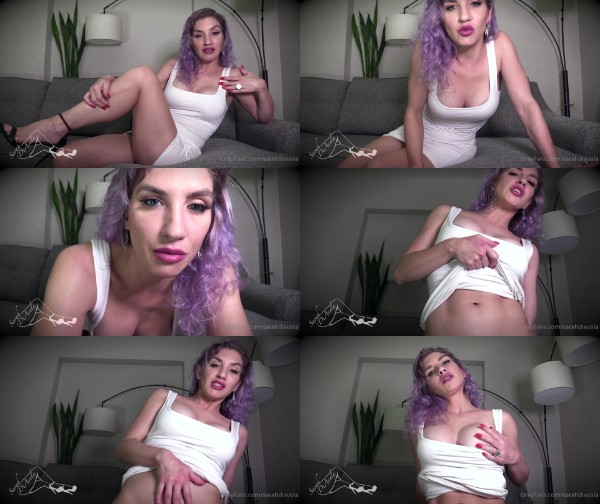 Description: It's just you and me, alone in this big house, as your pop is on a trip and I've asked the house staff to take the night off. It's time we had some bonding time, you and I. So...have you done your homework?
I start to talk to you, gently but suspiciously. You fondle the remote control in your hands, trying hard to focus on your TV show. Brooding. Because you hate me, don't you? So sad, because your pops really fucking likes me. Like, a lot. I'm older than you are, but young enough to disgust you when you see me with your pops... or hear him fucking me on the other side of your bedroom wall.
So there's no way you're going to warm up to me, huh? Keep your eyes on the TV. I reach my hand over to your crotch and start to rub you on top of your pants. Naturally, your cock stiffens a bit. But of course that won't last long - you could never be turned on by your step-mother. Not that bitch.
It starts to become more difficult to ignore me. I can see you trembling and, as I've released your young cock from your pajama pants, I can see your penis twitching too. Thick, hard, and ready. I can tell how humiliated you feel. You're blushing.
That's right, you've never been with a woman, have you yet? You're still an innocent male virgin. Yummy.
Well, there's a first time for everything, huh?
Stop wriggling away from me. Ssssshh, let me do what I want to you. If you really don't like it, you won't stay hard. Don't lie to me, young man. I can see your body wants me. All men want me. And their sons, too.
I reach my head down to kiss your cock. Not so bad or scary, is it? I look up from between your legs, my lips still wet, and I know I've got you trapped. I'm going to devour you with my entire mouth...with my entire body. Every night. Until you graduate and move out of this house, you're mine. Every night.
You're going to experience the feeling of a tight, wet pussy for the first time...whether you like it or not.
I've got you dizzy with arousal and confusion, and I don't let you forget about how much you hate me for breaking up your Step-Parents' marriage. But your cock still wants to fuck me. So confusing.
It doesn't take much pressure to overpower you, straddle you, and place your throbbing hard cock right at the entrance to my little pussy. Little by little... just the tip... before I suddenly slide FAST down and slip your cock all the way inside step-mommy. My tight pussy traps your dick inside, and your first reaction is to try to get me off of you. But your penis feels soooo good inside of your step mom's pussy, you've lost your strength. Go ahead, try to escape. Try to push me off! If you can get out from under my pussy, I'll let you go. Of course, you can't.
And so, with your little body pinned down, your pajama pants around your ankles, I ride your sweet young thick cock and work it up into a frenzy. As I grind and bounce on your big fat dick, I remember that you are supposed to have a big important date with your steady girlfriend soon! Oh, and this was going to be the one where you finally lost your virginity to each other! It was going to be so special, you spent so much time and money planning it all out, so it would be the most perfect and innocent expression of love... and then your evil step-mommy comes along and STEALS YOUR VIRGINITY! You were going to gently slide your cock inside her tight virgin pussy, kissing her, and instead you're pumping your rigid cock in and out of a woman who is about to make your life a living sexual nightmare.
Does that make you mad? Good, get angry. Get so mad at me that you hate-fuck me! I'll make you so mad, you'll be rage-fucking me several times a day. Just to get out all of the frustration I've caused by fucking you daily, fucking all of your friends when they visit, fucking your pop so loudly that you can hear every wet moaning noise. Sneaking into your room at night to pin you down and use your body until you cry and beg for your real ma.
Go ahead. Hate me. Fuck your enemy. I just stole the most precious and intimate thing you had, and you can never get it back. I'm fucking your cock until I squeeze out the first load you've ever pumped into a woman, I want to take it all.
I will steal the next few years of your life, sucking and fucking your big cock daily, against your will - but your cock is so aroused by me, it's impossible to resist my sexual assaults. Welcome to a life of erotic prison, you good little horny boy. Or, should I say... young man?
UNCENSORED TOP & BOTTOM NUDITY
FULL PREVIEW with SOUND on the Hub/pornstar/Sarah-diavola
All characters mentioned are of consenting age.
mp4 l 1.05 GB l 1920*1080 l 00:24:28